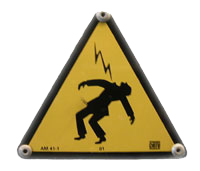 After budget-busting increases in natural gas last winter, now we get to see the other half of our CILCO bills go through the roof. AmerenCILCO announced yesterday that electric rates will rise 55 percent starting in January 2007. Pioneer-life doesn't seem as far-fetched all of a sudden.
I remember reading about the Howerter family in a Journal Star series on homesteading. They were living "off the grid" — that is, without any electricity they couldn't generate for themselves. It was a hard life, not unlike the ones the pioneers lived when they came to this area. You just don't realize how much time and energy is saved by our modern appliances. I admired their idealism, but thought it was crazy to try such a thing.
Until now.
Oh, I'm not moving my family into a rural log cabin and becoming a modern day Ingalls homestead. But I am considering things I never thought I would even explore: ways to get off the grid. Right now I'm looking at the feasibility of solar power and ways to conserve energy in our house. There are surprisingly (to me) a huge number of resources on the internet on ways to conserve and generate one's own electricity.
I was just reading an article in Home Power Magazine about a family who installed a solar electricity system, also called "PV," short for "photovoltaics." Even with this system and all their conservation efforts in place, they still couldn't produce enough electricity to get completely off the grid, especially in the winter months when there obviously is very little sun and a lot of furnace blower energy being used. But in the summer months, they came very close to producing 100% of their electricity needs. So, that tells me it's at least worth exploring.
We've got to do something. We simply can't afford a 55% increase in our current CILCO bills.