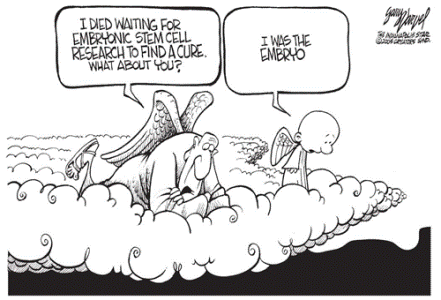 The House of Representatives is scheduled to vote on a bill that would allow federal funding of embryonic stem cell research today, according to many news accounts, such as the Chicago Sun-Times. President Bush vetoed similar legislation last year.
As Mike Pence of Indiana points out in his quote in the article, I too think it's important to remember that this particular bill is not a debate about whether embryonic stem cell research should be legal, but rather who will pay for it. This is a sensitive moral and ethical issue, and it is inappropriate to force taxpayers to fund this. I said the same thing when Gov. Blagojevich deceived Illinoisans in order to get state funding: "Because of his deception, every Illinoisan's tax dollars are directly funding human experimentation and destruction."
And that's really what it is. Science has long established that embryos are human life, that they are a distinct stage of an individual's development, just like being a fetus, infant, child, teenager, and adult are distinct stages of development. At one point in your existence, you were an embryo. You were never a sperm or an ovum. But at conception, you came into being. So it's not inappropriate nor inaccurate to call this human experimentation and destruction.
Thus, the debate comes down to this: What is the threshold for human experimentation and destruction? What criteria do we use to determine it's okay to experiment on/destroy humans at the embryonic stage, but not the fetal stage or the infant stage?
The argument is often made that we have lots of IVF embryos that will just be thrown away anyway, and shouldn't we put them to good use. What about all the fetuses that are aborted? Will we next be asked to put them to scientific good use as well, since they are similarly discarded? If not, why not? And whatever that reason is, couldn't that same reason be given for not experimenting on human life at the embryonic stage?
I would argue that a threat to the value of human life at any stage is a threat to the value of human life at every stage. Therefore, human life should be held sacred at every stage. Just read Peter Singer for an example of how the same philosophy that allows destruction of embryos and fetuses, when followed to its logical conclusion, leads to a rationalization of infanticide and euthanasia.
The Journal Star, in its print version of the editorial page, has this equivocal editorial stance:
We don't discount the moral component of this debate, though the comparison of these practically microscopic embryos to thinking, feeling people being experimented upon strikes us as inaccurate and unfair. We encourage the research on alternatives to embryonic stem cells [i.e., stem cells from "adults, umbilical cords and amniotic fluid"], which would alleviate most of the moral concerns, though some will always object. […]

Stem cell research will continue with or without federal funding. Some states, including Illinois and California, have committed funds, and private dollars are available. But federal help will expedite that research and put Uncle Sam in the ballgame, where he can better monitor and control and perhaps even steer it in the direction of those other stem cell options. Congress should pass this bill.
Do they really think that federally funding embryonic stem cell research will lead to less rather than more embryonic stem cell research? That federally funding embryonic stem cell research will somehow lead to greater research in "other stem cell options"? They're just trying to throw a bone to those with moral/ethical objections.
President Bush should veto this bill… again.