This will be my 94th post in the "Kellar Branch" category, and in all those previous posts I don't believe I've ever once looked at the situation from the viewpoint of Peoria Heights. I suppose that makes me a typical Peorian. Back in the '60s, right after Peoria's successful vote to annex Richwoods township, the city tried to annex Peoria Heights, too. That failed. They're a resilient and independent community, and they have their own unique needs. It would be good for Peorians (including me) to remember that once in a while.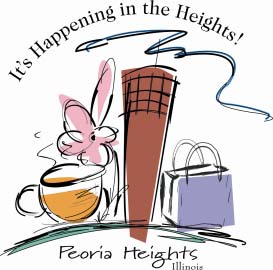 When I talked to Peoria Heights Mayor Mark Allen on Thursday, he explained to me how he sees the Kellar Branch issue. Unlike Peoria, he said, the Heights is completely landlocked. They can't just annex land to the north or west of their community to grow. They can't build a regional mall along the fringes of town like Peoria can. All they have for economic development is what's available to them right now within their village.
And the Kellar Branch corridor is one of their assets. They own the portion of the Kellar Branch that lies within their village. So they have to ask themselves, what's the best use of that corridor for the Heights? A rail line or a recreational trail? In Mayor Allen's opinion, the answer is definitely a rail line. And he believes a majority of the Village Board feels the same way.
With a rail line, there's always the potential to carry freight, of course, and that can be used to lure a rail-served business to the Heights. But it also can provide another tourist attraction to complement the Heights Tower and shopping district: a tourist trolley. As Thursday's Journal Star pointed out:
…according to a report from Gomaco Trolley Co., more than 40 U.S. cities are looking at running street cars. Tampa, Fla., spent about $55 million on its system and has reaped about $1 billion in development; Little Rock, Ark., spent $20 million on its line, which has returned about $200 million; and Kenosha, Wis., built a system for $5.2 million that has brought in about $150 million.
Those numbers are compelling. It would be crazy for the Heights to not consider the potential of a trolley for the development of their village. If the Park District gets their way and tears out the tracks, they're gone forever. The Village is wise to give this idea due consideration before any permanent action is taken.
In contrast, a recreational trail can't begin to measure up to those numbers. Trails are not conducive to shopping. Consider the average trail user: they're exercising, they're hot and sweaty, and they've packed light. They're not going to buy clothes or jewelry or anything that they're going to have to carry on foot or by bicycle 4-6 miles back to their car. They're most likely to buy something to drink, and maybe something to eat, depending on how far they've come.
Not that there's anything wrong with that — but the Village has an obligation to its citizens to make the best decision for the future of the Heights. Right now they're gathering information, but it looks like they could be in a position to start making some decisions as early as April of this year.
Allen expressed his desire to work with Peoria on this project — he has no interest in being adversarial about it. He thinks this could be a mutually-beneficial partnership for the two municipalities. I'm inclined to agree.
We have a lot of unique, local attractions that are all tied together by that rail line: Downtown (including the Riverfront, Civic Center, future Museum, etc.), Peoria Heights (including Tower Park and their unique shops), Junction City (including Vonachen's Old Place where you can eat on a vintage train car, plus more unique shops), and yes, even the Rock Island Trail at the other end of the line. Why not band together to provide a true tourist package to Peoria Area visitors?
Wouldn't it be a great story if the Village that fought annexation forty years ago ended up being the impetus that drew our communities closer together?