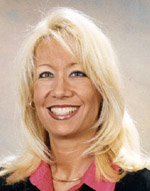 The Journal Star is accusing Alicia Butler of falsely claiming to have a bachelors and masters degree from Bradley University. Butler has not directly denied it.
Anyone know any more about this issue? I mean, Alicia has been on the school board for a while now. No one thought to check out her credentials before this? How did this come up all of sudden, right before the election?
I can't quite understand Butler's response as reported. Whether or not you have a degree is easy enough to prove — all you have to do is get out your diploma. If these allegations turn out to be true, it will be not only professionally, but personally devastating to Butler. I'm not a big Alicia Butler fan, but honestly I hate to see this happen to anyone; I hope the allegations are untrue.
Someone out there knows what's going on — come on… give!
Update (3/31): Now that I've read the full article that ran in Saturday's paper, I have to say this looks very bad for Alicia. All the other candidates were easily able to provide proof of their college degrees. As one commenter pointed out, this is easy to do. In fact, if anyone questioned my degree from ICC or my wife's degree from Bradley, I could just go to my filing cabinet and pull out our diplomas — it would take me two minutes, tops. Why does Butler claim "she would not have time to verify the information before the election"? The election is 17 days away.
Worse, Bradley's registrar (it wasn't clear to me from the previous article that a Bradley official had actually verified this) has gone on record saying Butler does not have any degrees from Bradley. I'm not sure how Butler could "know" she has a degree from Bradley, yet Bradley could somehow not know.
It's true, as the paper points out, that there is no educational requirement to be on the school board, so the fact that she doesn't have these degrees does not disqualify Butler from her current seat or the present race. But her integrity and character are seriously in question now, and that doesn't set well with voters who are already distrustful of sitting school board members. I think this sinks any chance there might have been of her being reelected.
On the one hand, and I'm assuming these allegations are true based on the testimony of the Bradley registrar and Butler's inability to prove otherwise, Butler has no one to blame but herself. But on the other hand, I'm still bothered by this statement:
Triggered by allegations against Butler, the Journal Star asked all five District 150 School Board candidates to verify their educational credentials.
Who made the allegations against Butler? Was it another candidate? A sitting school board member? Is this political payback for a decision or vote Butler made? Again, I can't have much sympathy for someone who lied on her resume, but the source of the allegation is still germane. Who wanted to ruin Butler's reelection bid and why?