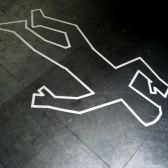 So far this year, there have been eight homicides (i.e., murders) in Peoria, and it's not even May yet. That's an average of two murders per month. Lest we forget the citizens and neighbors we've lost, here are their names, ages, and when they were killed:
DeAndre Allen, 18 (1/1)
Virginia K. Mallow, 72 (1/13)
Domonique Alexander, 16 (1/25)
David L. McCreary, 35 (1/26)
Tamara Gregory, 42 (4/7)
Anthony D. Hart, 32 (4/16)
Dequarrius Sims, 17 (4/22)
Carlyts Bovan, 22 (4/27)
Anyone have any ideas on how to cauterize this wound on our city? I have this poignant feeling of helplessness whenever I think about these senseless killings.