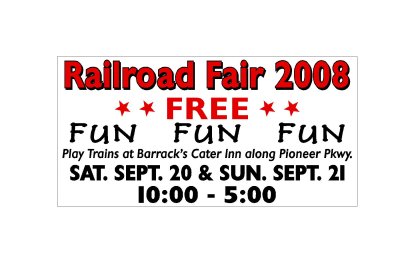 The Illinois Prairie Railroad Foundation (IPRRF) is organizing and coordinating Peoria's first ever Railroad Fair next weekend. Here's some further information on what's being planned:
We have contacted the local short line railroads asking them to put various pieces of equipment on display for the general public to view and have hands on experience. The public will be allowed to explore the equipment. None of the equipment will be running at the time. Operation Lifesaver will be there and there will be a mini railroad swap meet also. There will be face painting for the little ones and Thomas the Tank masks for them to color and cut out.

All of this will take place on Saturday, Sept 20th from 10 a.m. to 5 p.m., and Sunday, Sept 21st, 10 a.m. to 5 p.m. Place: Barrack's Cater Inn on Pioneer Parkway. Equipment will be staged on the Kellar Branch next to their parking lot.

The idea of this railroad fair is to introduce the general public to the importance of railroad to our daily lives and to teach them railroad safety…. This is going to be a fun thing and hopefully it will become an annual railroad fair. We are a 501(c)3 nonprofit Foundation. Contributions gratefully received. Please send to Illinois Prairie Railroad Foundation, c/o Sharon Deckard, 3124 W. Farmington Rd., Peoria, IL 61604-4815.