*With apologies to PeoriaIllinoisan and NTPL.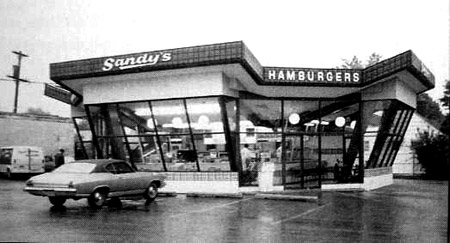 Hint: The building still stands today.
Many readers remembered Sandy's on Sheridan, across the street from Sheridan Village. The building is now occupied by Dairy Queen. I got the above picture and the following information from this website on the history of the fast food chain:
Peoria Sandy's Sheridan Road was Sandy's number one. It opened on August 8th, 1958 and was originally planned to be one of the first McDonalds east of the Mississippi River. Ray Krok, however, changed the leasing agreement to his favor when the building was being built. The founders of Sandy's were not happy with the new terms which were violations of the original contract. They decided to follow the McDonald's playbook and open their own drive-in and called it Sandy's which is a Scottish play on the Irish McDonalds and to present a theme of swift and thrift service….

The choice of Peoria turned out to be a great one and by 1961 there were three Sandy's locations in the city which were incredibly popular. Supported by Peoria's numerous high schools as well as Bradley University, they became powerhouse businesses and Sandy's was on its way spreading across the nation and becoming a dominant force in the fast food industry….

Sandy's Peoria was not only the birthplace of the chain but it also was the spearhead of the transition between Hardees and Sandy's. Sandy's was in need of capital for expansion as well as to keep up with the leading fast food rivals in the nation. Based in Kewanee, Illinois, Sandy's had one bank for financing. McDonalds, on the other hand was based in Chicago and had many of the most powerful banks in the world to choose from to finance their expansion plans. In order to compete, Sandy's had to either issue stock or merge with a competitor. Hardees, on the other hand, needed Sandy's strength, which was its board of directors and had plenty of capital. The merger made total sense….

The merger itself was announced in December of 1971. At some point, most likely in 1972, Sandy's decided that it was in its interest to allow Hardees to buy the corporation out and become one…. Ninety percent of Sandy's by this point had converted into Hardees. A few locations such as the Muscatine, Iowa Sandy's remained Sandy's well into the late 1970's! Other locations became independant operators such as Bucky's in Lawrence Kansas which continues to this day in 2004!