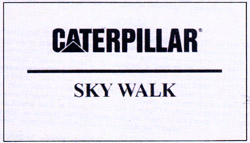 One of the most prominent pieces of the hotel redevelopment will carry a corporate sponsor's name: the Caterpillar Sky Walk.
Part of the downtown hotel project is the construction of a pedestrian bridge over Fulton connecting the renovated Pere Marquette and new Courtyard Marriott to the Peoria Civic Center. Caterpillar, Inc., purchased the naming rights to the bridge for one million dollars.
The naming rights agreement, which is only between the hotel developer and Caterpillar (not the City of Peoria or the Civic Center), allows Caterpillar to "name the Connector, including the right to display appropriate signage on the exterior and interior of the Connector," but "not includ[ing] any other marketing, advertising, or other rights." The agreement specifically says that Caterpillar does not have any rights to name the hotel or garage, but it also forbids the developer from granting naming rights to "any person or entity that competes with Caterpillar in any industry that is part [of] the core business of Caterpillar."
Neither the redevelopment agreement between the City of Peoria and the hotel developer, nor the easement agreement between the Peoria Civic Center, City of Peoria, and the hotel developer, precludes the sale of naming rights. Council members contacted Monday said they were unaware that naming rights had been sold for the connector, or that there were any plans to do so.