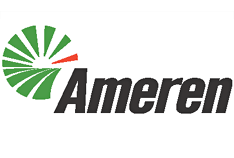 There's been a lot of press coverage of Ameren's threats since their bond rating was reduced to junk status by Moody's Investors Service and the response by the Illinois Commerce Commission (ICC). I've seen a lot of quotes from the ICC's letter, but not the letter in its entirety. It is available online. You can read it by clicking the "Show More" link below, or see a scan of the actual letter on the ICC's website in PDF format.
I'm glad the ICC is looking into this matter. It certainly appears that Ameren is playing games, and power is nothing to play games with. In today's society we depend on electricity and gas for heat, cooling, cooking, and other vital needs. Especially gratifying were the parts of the letter that said the ICC expects Ameren to "suspend their common and preferred dividends" and "consider reductions in . . . executive compensation and promotional advertising" before cutting services.
It looks like, in their zeal to stave off attempts by the legislature to reimpose a rate freeze, Ameren went a bit overboard in their dire warnings of what might happen if their credit rating were to suffer. Apparently they didn't anticipated the ICC would call them on it. The irony is that, in their attempt to rebuff rate regulation, they're unintentionally making a case for it instead.